Ames Golden K folks are actively raising money to help kids.   One way is to work– genuine, hard-work labor for pay.  ISU Dining needs help for serving large conferences in Ames, and we are there to work.  In these photos 30 of us are serving meals for 2014 World Finals of Odyssey of the Mind, a huge gathering of students from around the world.   Check out Odyssey of the Mind HERE and find photos of the kids and their projects HERE.
The kids get hungry at least three times a day!
We're there on the serving lines and even in the kitchen.  Just ask Craig Fulton and Eileen Muff!  (Oh yes, often our spouses volunteer to be part of the fund raising!)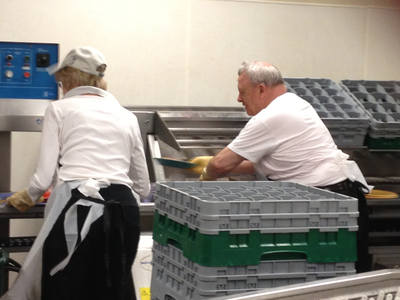 What is Larry Trede preparing?  Is it cheese?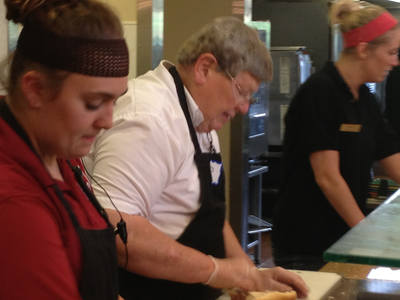 Of course, some one has to clean it up.  Lester Thompson is on the job!   Hey, Lester, that's not the kind of boot one uses to mop with!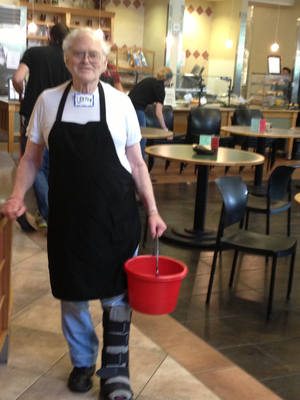 Leo Runge (left) and Chuck Glotfelty get to serve and interact with the students and families.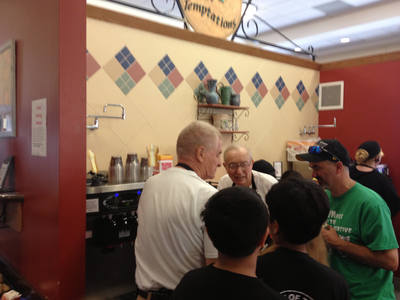 And, at end of shift, everyone's ready for a sit-down break.  Bud Voetberg (left), Chuck Glotfelty, and Leo Runge catch their breath.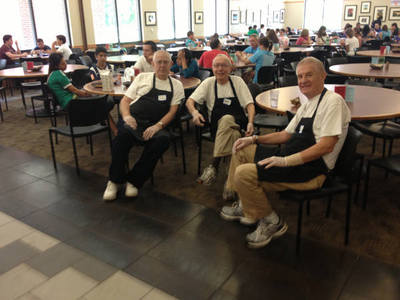 And Jerry Solbeck  finally gets a moment to sit and sip.