Ames Golden K does it again– raising money to support kids by working.  Pete Peterson and Monty Brown do the dirty work of washing up after breakfast for the International Conference of Future Problem Solving Program International, Inc. (Check FPSPI out by clicking  HERE.)    And of course, 100% of the funds raised from our work go into our service projects.  We of Ames Golden K worked all breakfasts and lunches June 12-15.
Many of us were involved over the four days.  Even Judy Giraud, sister-in-law of one of Ames Golden K members volunteered.  Here Judy hosts pancakes and potatoes.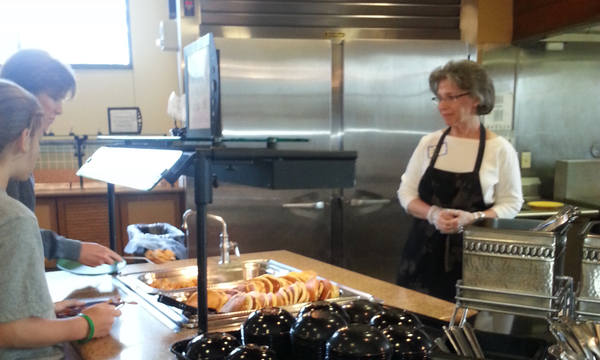 Program International
Other area clubs worked as well.  Jody Melcher,  Vice-Governor of our District and member of the nearby Nevada club, serves scrambled eggs and french toast.