The Ames Golden K Kiwanis Singers led by director Joe Traylor recently completed a challenging 2018 Concert Season, holding 17 concerts in many Ames and Story County locations including Northcrest Community, Nevada High School, Northridge Village, Meeker Elementary, Village Co-op, and the Ames Senior Variety Show.  Five Christmas Concerts concluded the year.
Christmas Concerts 
Dec 4      Kiwanis AKTION Club
Dec 8      Christmas Brunch, Bethesda Lutheran Church, Jewell.
Dec 11    Northcrest Health Care,
Dec 12    LIFT, at Cornucopia , Ames.  (LIFT= Living Info For Today)
Dec 18    Bickford Senior Living, Ames.
The photos were taken at the various Christmas Concerts. The Golden K Singers and attendees were definitely experiencing the joys of the Season! The Golden K Singers 2019 Concert Season will begin this Spring.
Above and next, at the annual Christmas meeting of LIFT, "Living Information for Today.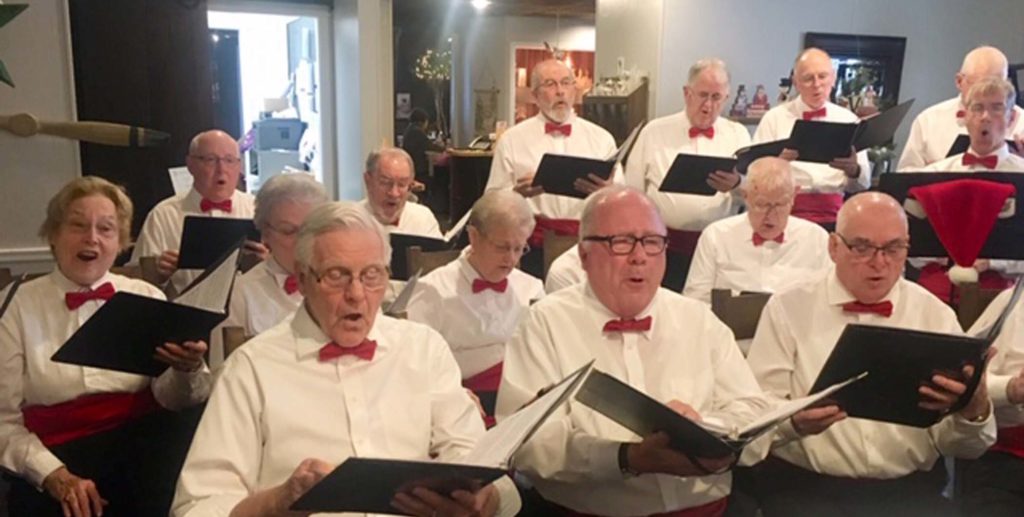 And at the Ames AKTION Club.  Pianists Linda Fauquet (left) and Laura Lagrange accompanied.