Ames Golden K Kiwanis Club recently awarded Five $1,000 one-time Grants to charities and agencies who help children and families in Ames and surrounding communities. The competitive grants were from fund-raising activities and donations from Golden K members during the past year.  Eleven grant applications were received, and five grants were awarded.  In addition to the Grant Program, the club also donates to sixteen non-profit
charities and organizations each year. During 2020, $19,000 in Ames Golden K funds will be donated.
The five Grant recipients, three of whom received $1,000 plus $1,000 from Golden K's  Annual Charity Donation Program, and two of whom received $1,000 plus $800 from Golden K's Charity Donation Program include:
—
AMES PUBLIC LIBRARY
–The $2,000 Golden K Grant and Donation will be used to provide books for students enrolled in Story Pals.  An Ames Golden K/Library tradition has been the weekly award of a new children's book to the Library signed by each week's Golden K meeting Guest Speaker. Pictured from the left, Golden K's Ron Skrdla and Norm Scott, Jerri Heid, Youth Services Manager, Ames Public Library.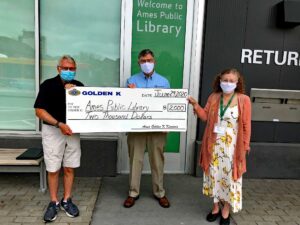 —
EMERGENCY RESIDENCE PROJECT
–The $2,000 Golden K Grant and Donation will be used to establish a new program for the children of ERP family clients. The mission of ERP is to provide shelter and support to homeless individuals and families and strive to prevent individual and family homelessness.Pictured from the left Ron Skrdla, Golden K, Jodi Stumbo, Executive Director, ERP, Linda Munden, Housing and Volunteer Director, ERP, Keith Folkmann, Golden K.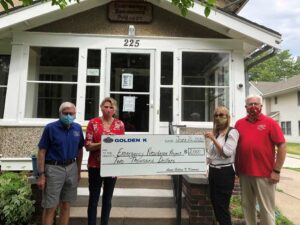 —
CHILDSERVE
–The $2,000 Golden K Grant and Donation will be used to purchase educational toys, supplies and books used for programming purposes. The mission of ChildServe is to partner with families to help children with special health care needs live a great life. Locations are in Ames, Johnston and West Des Moines. The Ames program creates a safe, nurturing place for children aged 6 weeks to 5 years. Pictured from the left, Gina Spohnheimer and Larry Trede, Golden K; Kate Reynolds, Ames Area Director and Erica Axiotis, Director of Development, ChildServe.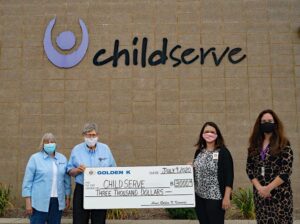 —
RAISING READERS IN STORY COUNTY
–The $1,000 Golden K Grant and $800 Donation will be used to provide program materials, mostly books, for an estimated 134 students enrolled in Story Pals for 2020-21, a highly successful program!  The funding will also allow purchasing a book for each child to take home at winter break and a second book at the conclusion of the program. The mission of RRSC is to improve language and literacy development in children from birth to age eight and nurture healthy parent-child relationships. Pictured from the left, Lisa Reeves and Autumn Long, Raising Readers; Kent Ziebell and Keith Folkmann, Golden K.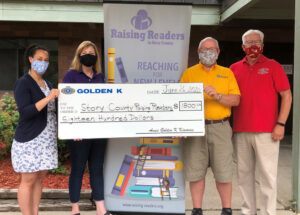 — YOUTH AND SHELTER SERVICES–The $1,000 Golden K Grant and $800 Donation will be used by YSS to continue to give youth and families the support they need to flourish.  YSS's comprehensive programs serve children, from newborns through young adults, and provide a safe, positive opportunity to heal, grow and gain independence.  One of their most
successful and long term programs is their "Kids Club" a before and after school program
that offers care for for kindergarten through sixth grade, and also includes a summer   program.  The Covid-19 pandemic has caused Kids Club to change it's curriculum to more
on-site activities related to STEM. Many of the current volunteers at YSS participated in Kids Clubs and some of their paid staff in the program are graduates of the Kids Club.
Pictured from the Left; Golden K's Larry Trede and Kent Ziebell, Jennifer Schmitt, YSS Kids Club Manager, and Gerri Bugg, YSS Community and Development Director and Ames Golden K Kiwanis member.